Classes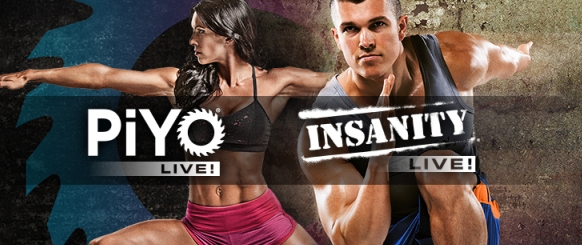 All Fitness classes have currently gone online due to the COVID-19 Virus. We are using Zoom. To access the logins for the classes please email: info@gemmafitness.co.uk
These classes are a great way to continue to socialise virtually, whilst doing all your favourite workouts. We have created such a nice online community you will feel so welcome when you join us.
PiYo
PiYo combines pilates and yoga to create dynamic, flowing sequences that burn serious calories at the same time as lengthening and toning muscles and increasing flexbility. The movements are designed to help sculpt your muscles, strengthen your core and above all tap into your fat burning-zone using low-impact movements.
Circuit Workout
This workout focuses on the whole body and challenges both cardiovascular fitness and strength to give you a great workout. If you do not own weights it is not problem as you can grab some veggie tins from your kitchen cupboard or some shampoo bottles from the bathroom to work with.
Cardio Box
This workout is choreographed to music and uses boxing and kick boxing moves alongside squats, lunges push-ups etc to give you a high intensity fun workout. It improves fitness and is a great at the end of a stressful day!
Toning Workout
This workout is great to build strength, lean muscle and tone. We use weights and repetitive movements to work our muscles and get a nice burn from them. The class leaves you feeling strong, and motivated.
Strength and Core
Strength and core works on switching on all our deep stabilising muscles so that we improve balance, core control and is great for injury prevention. The movements are slow and strong to allow for correct technique and form. You will definitely be challenged in a positive way and will end the class feeling like you have not only worked hard but achieved a lot! If you have weights please feel free to use them otherwise grab veggie tins, shampoo or water bottles.
Weekly Timetable
Monday
6.30-7.15pm: Circuit Workout
Tuesday
8-8.45am: PiYo Workout
6.30-7.15pm: Cardio Box
Wednesday
7-7.45pm: Toning Workout
Thursday
12-12.45pm: PiYo Workout
Saturday
9-10am: Strength and core
Pricing:
You can either pay per class or via a monthly class pass. The monthly class pass can be paid for anytime throughout the month and then you will get an email reminder the following month on that date in-case you want to renew. If you have paid for a monthly pass you will get all the logins for the weekly classes emailed to you on a Sunday evening.
If you want to pay per class, this is absolutely fine, please just do so upfront and at least an hour before the class begins so that I can get the login to you. If it is closer to the class you will need to text me, so that I can get the login to you as I don't always have a chance to check my emails in the lead up to a class.

You have 6 classes available to you each week and you can either pay £30.00 for a monthly unlimited class pass or £5.00 per class. Please pay via PayPal by searching my email address|; gemmafitness86@gmail.com.
For more information please email: info@gemmafitness.co.uk
I have been training with Gemma for the past 5 years and have found it to be an absolute game changer for me. Not only have her workouts helped me achieve a strong and healthy body, but her enthusiasm and positive energy has provided me with great social and mental wellbeing which is just as important to me. During lockdown her classes continued online and it was (and still is) the highlight of my day! She has provided the structure to what has been a very uncertain time and has kept me physically and mentally strong by providing a variety of different classes to choose from.


I absolutely love all her classes, my favourites being cardiobox, HIT and circuit training. Thank you for being such an inspiration and awesome fitness instructor!

I absolutely love being a part of the Gemmafitness community!

Melissa Lazenby
I tried Gemma's Piyo class in Shoreham back in 2018, and have trained with her ever since. I struggle to motivate myself to undertake exercise by myself, so Gemma's group exercise classes are perfect for me.

Gemma is a great motivator, and makes sure you are challenged and pushed to do your best through encouragement and support, rather than intimidation! I always look forward to Gemma's classes, even if I am tired and flagging after a day at work, as I know a session led by her will energise me.

Her classes are varied and fun, and she encourages me to try new things- I wasn't sure that boxercise would be for me, but it turns out I love it! I feel fit, strong and healthy as a result of training with Gemma, and I'm sure the work I do with her has helped me to improve my cycling and swimming too.

During the pandemic, her online group classes have been amazing- both to keep me fit and to feel connected with other people, even if we're not in the same room.

Rosie Foreman-Lonn - Class member
Gemma's classes are fun, challenging and suitable for all fitness levels. Both in person and online she always brings great energy that encourages you to push hard but leaves you smiling. Her classes have improved my functional fitness, working on strength, fitness, stability and mobility, making my body strong and able to carry out any activity.

Tasmin Schofield - Class member