Prices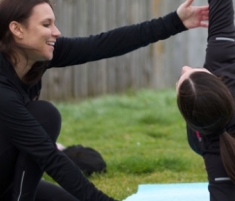 The first step is to book one of our 1 hour consultation sessions priced at £45. This consists of a physical analysis of your current health and fitness levels and leads onto a discussion to put together a detailed picture of your lifestyle, exercise, nutritional habits, medical history and what motivates you.
This then allows us to chose what our training plan will be going forward and you can chose one of the options below. We offer both 45 minute and 1 hour sessions which can be bought as single sessions or as one of our packages.
Prices and packages:
Initial consultation £50.00
Single sessions:
45 minute session £40.00
1 hour session £50.00
Packages:
Package of ten 45 minute sessions £380.00
Package of ten 1hr sessions £480.00
Nutritional Therapy:
Initial consultation £65.00 (1.5hr appointment)
Follow up appointments £50.00 (1hr appointment)
Sessions can be paid for in cash when you meet your trainer or via a bank transfer.
Cancellation Policy and terms and conditions
We have a 24 hour cancellation policy which is applied to all scheduled personal training and nutritional advice sessions. Sessions cancelled less than 24 hours in advance will be charged in full to the client. You can cancel or rearrange a session by either phoning or texting Gemma Fitness on 07429 610899 or emailing info@gemmafitness.co.uk.
All personal training packages bought will expire 6 months from the purchase date.
All personal training packages must be paid for in advance, before the first session commences.
If a personal trainer is late for a session the session will be extended, if the client is late for a session it will not be extended due to the trainer's schedule for the rest of the day.
Refunds will not be given if the client has paid for a package and no longer wishes to continue.